don't worry, I washed my hands!
Hey party people! Welcome to my stop on the Let's Get Acquainted Blog Hop!
First off, I'd like to thank Beth from
Plum and June
for organizing and inviting me to take part in this blog hop. She's a pretty awesome lady, so I urge you to go and check out her blog.
My name is Melissa and I'm the crafter behind
issa.ino:handmade
. I currently live in Indiana, but have dreams of moving back out to California in the next couple of years. By day I am a Brick Specialist at a toy store that specializes in building blocks (500 points if you can guess the company I work for, email me) and by night I crochet, sew, bake, cook, steal souls via my camera and a dozen or so other things.
I intended to post a tutorial, but I'm in a bit of a crafty funk right now, but if you come back in the next month there will be a birthday/100+ post/let me make it up to you for being a bum/I want you to come back giveaway.
How long have you been quilting?
- I just started quilting this summer. Yup, I'm a noob. My friend Gale from
Stamps and Stitches
and I did a crafty swap: a
cowl
and
fingerless gloves
for a quilt. When I received it I was in awe at how beautiful it was and have slept with it just about every night since I received it. Sometime after that I came across a blog that mentioned Quilts for Kids and thought, that would be something fun to do and it looks pretty easy. I started clicking on some of the blogs that Gale had linked on her site and found so many beautiful quilts that I was hooked. I started looking up fabric and asking Gale questions and the next thing you know I'm
sewing my first quilt Lucy
. She's not finished yet. :(
this is the quilt Gale made for me
Favorite quilting tips? - Pin your seams on BOTH sides if you want them to line up correctly.
Favorite blogging tips? - Make sure you are NOT a no reply blogger when commenting on other blog and turn off word verification. I will say that word verification is a big pain in the *bleep*. I feel they are modern day torture. Oy!
Favorite fabric? - Currently Seaside by October Afternoon and Vintage Modern by Bonnie & Camille and Bella by Lotta Jansdotter. That's the short list.
Favorite craft book? - I'm not really big on craft books. I do like The Handmade Marketplace though. It might be the only craft book I own. I've checked out a few quilting books from the library, but nothing I just had to go out and buy to add to my collection just yet.
Favorite quilting tool? - Probably my rotary cutter. I can't imagine having to cut everything by hand. It would take sooooo long. And I have a thing for things being perfectly straight. I kinda wish I could use my paper cutter to cut fabric.
Favorite music while quilting? - I like to listen to pretty much everything. But The Foreign Exchange and Au Revoir Simone seem to get a lot of play when I'm sitting at my sewing machine.
Favorite TV show while hand stitching? - I haven't tried hand stitching yet. It would probably be whatever is on that I like to watch that night. How I Met Your Mother, 2 Broke Girls, Grey's Anatomy, Scandal, Hart of Dixie, New Girl.


Binding - by hand or by machine? - By machine. And I think I've finally mastered it. I made some pot holders as one of my first projects and the binding...oh boy. Not very pretty at all.
If I'd known - what you wish you knew before you started your blog?
- I've been blogging since about 2005, my personal blog
[insert sarcastic remark here]
. I don't know if there's anything I wish I knew back then before I started. It is a lot of work for sure, especially when you have more than one blog.
If you want to know anything else just ask. You can drop me an email at issa [.] ino [at] gmail.com.
Please make sure you check out the other bloggers this week and stop by and see Beth at
Plum and June
as well.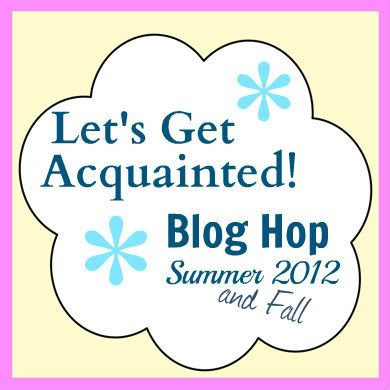 Bloggers to visit this week:
Oct 16